6 Difference between Far Cry 5 and Far Cry New Dawn
2019-08-15 01:06:18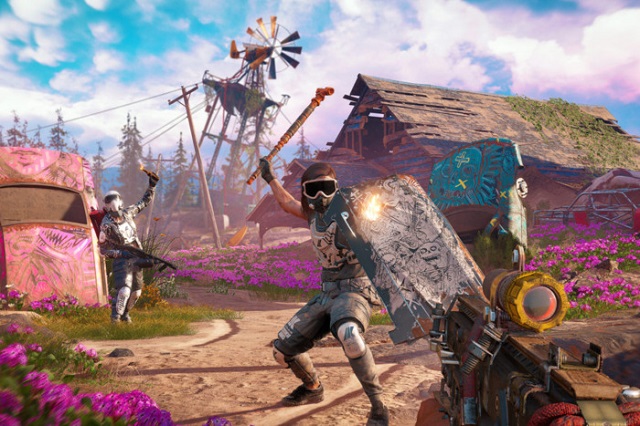 Do you know the differences between Far Cry 5 and Far Cry New Dawn? In this article, we will introduce 6 aspects of the differences.
1. Far Cry New Dawn was set up after the nuclear explosion disaster. This is a classic image that has been separated from the series of Far Cry, and it is not directly placed on the land that is still polluted by radiation. After the vegetation has recovered to the same extent, there are both the end of the world's lime, sand, ruins and other beautiful natural environment.
2. Although Far Cry New Dawn's map has continued for five generations, there are still many differences. In addition to the differences in vegetation and ruins mentioned above, some of the five generations have disappeared, and some have been established by survivors. The building was replaced.
3. Far Cry New Dawn has a new type of mission: "Expedition", where players can take a helicopter to a specific area and take a package from it. Since the area and the game body are independent of each other, the image quality display and the number of enemies are improved. It can be regarded as a "large-scale outpost". There are many such areas in the game, and they are also a major feature of New Dawn. Several such "sentinel stations" have been shown in some of the previous live demonstration videos.
4. Far Cry New Dawn introduces a new villain: sisters Mickey and Lu, who are like two big pirates in the world of disasters, leading a group of robbers to robbery around. The official introduction of them is not much, but the two of them have killed their own biological fathers in order to take power, and the sinisterness of the means is not obvious. In addition, the previous notice also appeared in the five-generation classic image "Father of the Father" Joseph Sid, but the game designer refused to disclose any relevant information, so I do not know how he would appear in this work.
5. Far Cry New Dawn, the related gameplay of the post is also more compatible with the game background. Players can choose whether to use it to generate resources after each occupation, or they can harvest it by "killing chickens and taking eggs", but it will lose The defense, after a while it will be occupied by the robbers, then if the player wants to go back and reoccupy it, the resistance will be stronger. Each post can be reoccupied three times, once more difficult than once.
6.Far Cry New Dawn, once the partner dog has died, the player needs to ask for help from some new and old faces, but there will also be new animal partners in this game, including one can ride with the player. Take the motorcycle dog and a huge wild boar.
---
---