Black Desert Online Great Expedition Hits Today
2019-10-24 07:23:41

Black Desert Online is set to receive a new series of events dubbed The Great Expedition, live today after maintenance.

The event runs through November 6 before maintenance, according to the official Twitter handle. The features are extensive:
Barterers, NPCs drifting Margoria, and NPCs of Oquilla's Eye have been added and related Knowledges have been created.
You can now obtain knowledge when defeating the following.
*You can also obtain it from the hungry marine creatures and young sea monsters.

Hekaru
Ocean Stalker
Candidum
Nineshark
Black Rust
Goldmont Small Battleship
Goldmont Medium Battleship
Goldmont Large Battleship

The name of the area which appears when you enter an area of the Great Ocean has been changed like the following:

Before: Margoria
Now: Great Ocean
Additionally, Bartering has been added and can be performed through your ship. A Sea Coin Shop has been added which can be used to purchase various in-game items. A new ship, called the Epheria Cog, has also been added.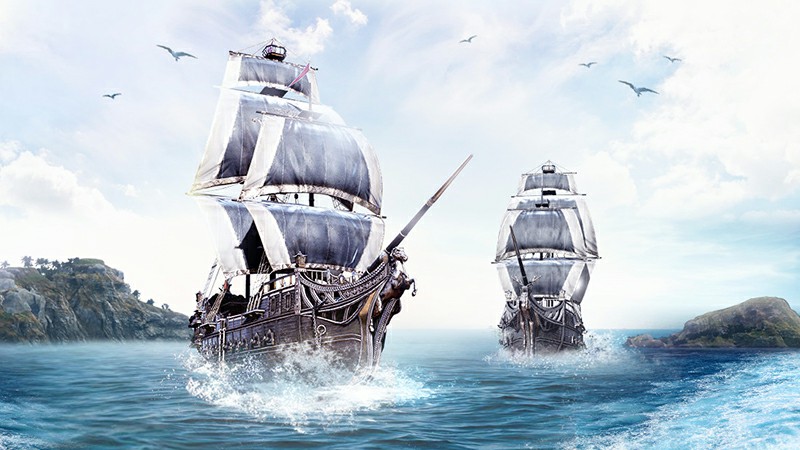 Several ship related fixes and tweaks have been implemented as well:
While on board a ship, the ship will no longer overlap with the wharf, land, and islands in certain situations like the below (You can no longer approach too close to the wharf, land, and islands):

When you go to the character selection screen while the character is on the steering wheel and the ship is near the wharf
When you are stuck on a land while moving or while using a certain skill
The location of where the ship appears when taking out a ship from the wharf has been changed.

The Stamina conditions when using skills for the Galley, Epheria Sailboat, Epheria Frigate, and new large ships have been changed. Character Stamina will recover during normal movement.

Stamina will be consumed when using PowerAccel, Ram, and BreezySail.
BreezySail can be used when you have maximum amount of Stamina while moving at top speed.
The AbruptTurn skill does not consume Stamina. Stamina recovers while you are using this skill.
If you recover maximum Stamina while using the AbruptTurn skill, you can use the BreezySail skill immediately after using the AbruptTurn skill.

The combined capacity of cargo load and sailor weight cannot exceed 100% on large ships.

However, it may exceed 100% through Bartering.
If it exceeds 100%, the ship will become slower, and you cannot use sailing skills.
---
---