Division 2 New Gear Sets - How to Get The Ongoing Directive Gear Set
2019-04-24 09:26:04

New gear sets have been introduced to the Division agents following the release of World Tier 5 and Tidal Basin. There are three gear sets currently available: Hard Wired gear set,Ongoing Directive gear set, and True Patriot gear set. Today, we will focus on one of them - Ongoing Directive gear set. So here's where you can get them all and what abilities it provides.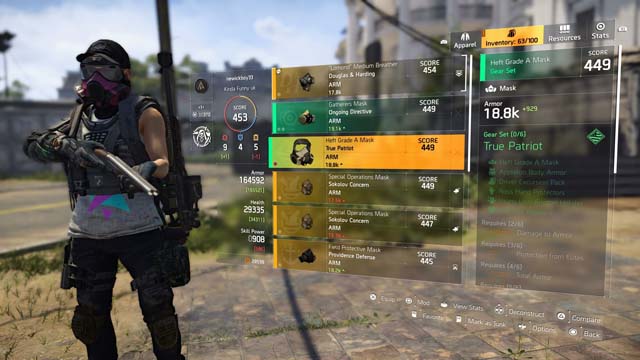 Ongoing Directive Gear Set
Special Bonuses
In order to use the sets, you must be at least World Tier 4 and can access the Tidal Basin Stronghold.There are six pieces to collect for each set, Gear sets grant unique bonuses when two or more are equipped.
Two Pieces: You receive 20 percent increased weapon handling
Three Pieces: You deal 25 percent additional burn damage
Four Pieces: You inflict 25 percent additional bleed damage
Five Pieces: You receive the Emergency Requisition perk. With it, your character automatically picks up any helpful items, such as armor kits, grenades, and ammo, within a 40-meter radius, every 30 seconds.
Six Pieces: You receive The Right Tool perk. With it, whenever you get a kill, one of your other weapons is going to collect elemental ammo.
After killing an enemy, special ammo will be loaded to one of your other two weapons. The added bullets could either cause bleed, shock, or burn to your target. This could be used as a good method to control your enemies if you don't have any other form of CC. But this gear set isn't recommended for PvE, as the special ammo doesn't quite make up for the loss of DPS from having to switch out your high-end armor.
In PvP, in theory, this gear set could be very strong. If you manage to load in shock bullets, you can pretty much stun a player and kill him or her guaranteed. However, do note that you need to kill a target first and hope that you get the shock bullet.
Where to Get Ongoing Directive Gear Set Pieces?
This new set are very easy to to get a hold of, as its gear set pieces are random dropped by Black Tusk elite enemies and bosses once you hit World Tier 5. you can look for gear set pieces in recommended places including Black Tusk bounties and any activity in the open world that the Black Tusk are involved in (you can check this on the map before engaging to avoid wasting time). To unlock more gear, come to Joymmo.com for Cheap The Division 2 Credits.
Completing Invaded Missions and Strongholds is the most reliable way to get those pieces. They guarantee at least one piece for completing them, and they tend to have a lot of elite enemies who increase the chance of getting more throughout. The missions that are invaded reset weekly, so make sure you complete them each week to get the complete sets as quickly as possible.
That's the end of this guide. Hopefully, it would help.
---
---