Albion Online Reveals New Challenges And Rewards For July
2019-07-02 04:53:03

June has come to an end and that means it's time for players of Albion Online to take on a new challenge. For the entire month of July, Albion Online players can take part in the Undead Challenge that can yield some pretty sweet rewards. Starting today, players can take the "Undead Challenge", during which they will earn points for open-world activities and unlock all kinds of limited-time rewards. Included in these rewards are a new mount, the Spectral Direboar, and a new avatar Border. In addition, players can also earn the Undead Challenge avatar border, and grab seasonal specials such as the Undead Skull, Ribcage, Legs and Ragged Undead Cape as well as Adventurer's Tomes, Silver & more.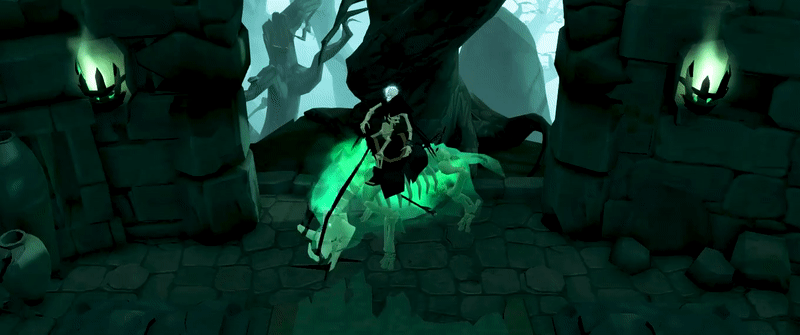 For fans of amphibians, Sandbox Interactive is also offering players a chance to get a giant frog just for recruiting new players. Players can send a long a referral link to a friend. When they purchase a minimum of 30-days Premium game time, the reward kicks in.

New Month, New Challenges, New Rewards!
A new Adventurer's Challenge and Referral Season start today. Claim your Spectral Direboar and Giant Frog!
Take the Undead Challenge
The dead have risen... and their treasures are yours for the taking! For the entire month of July, take the Undead Challenge to collect limited-time rewards. Earn points for open-world activities, unlock chests to get valuable loot, and claim an exclusive mount, avatar border, and furniture items.
NEW MOUNT: This month's Challenge introduces the Spectral Direboar, a ghostly mount with a unique spell, Glimpse of the Other Side, which renders you temporarily invisible. Use it to evade your enemies... or sneak up and catch them unawares!
NEW AVATAR BORDER: Adventurers who rack up enough total Challenge Points will also earn the Undead Challenge avatar border, featuring a spooky undead-themed design that will strike fear into the hearts of your foes. This non-tradable item permanently unlocks this avatar border for one character.
SEASONAL SPECIALS: All month long, reach weekly goals to unlock Undead Challenge chests. In addition to valuable rewards like Adventurer's Tomes and Silver, you'll also have a chance to unlock four costume items - the Undead Skull, Ribcage, Legs, and Ragged Undead Cape - to transform yourself into a grinning skeletal warrior!
Check out the details on the Albion Online site.
---
---