Forza Motorsport 7 Beginner Guide: Best Way To Boost Your Credits And Get The Best Cars
2019-03-29 09:35:18

Once you get hands on Forza Motorsport 7, you cannot help falling in love with this game. While enjoying the exhilarating thrill of competitive racing and experience of high speed, you also have to earn more Forza Motorsport 7 Credits to unlock more missions and best cars. In this Forza Motorsport 7 Credits Farming Guide, we will guide you on how boost your Forza Motorsport 7 credit gain fairly easily. And with your newfound wealth you'll be expanding your car collection and increasing your collection status in no time.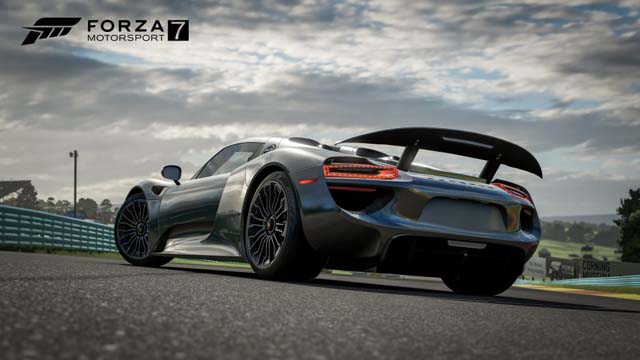 Use The Oval Track at Daytona
One really easy way to grind out some extra cash is to go to Daytona, use the oval track. Do a 50 lap race using the Hoonicorn Mustang on Unbeatable difficulty. Even if this is above you skill, that car is so overpowered you can't lose. It takes a little over 30 minutes. You get 88,000 for the race plus an additional 88,000 for the difficulty setting. If you have any VIP mod cards left stack them as well. This will get you 440,000 credits. If you don't have VIP mods stack other mods, you won't get quite as much but its easy money if your desperate.
Increase The Length of Races And Increase Drivatar Difficulty
For campaign races set them to long or extra long and put the difficulty as hard as you can handle. Longer race lengths give you more time to make it through the pack on hard difficulties. Always equip higher tier mods that you can be sure to accomplish (perfect turns, etc). Quick money while doing campaign. If you need a big chunk of change to buy a car try free play with a forza edition car. Slap on some legendary mods and do a two hour race and it's a couple million in credits.
Do League Racing
Try league racing. First of all, you'll get a nice credits bonus for every time you reach a new tier. Depending on how quick you are, you might get up to 500,000 credits (or even more, I'm not at the very top).
Auction Rewards Cars
Secondly, there is a reward car (often some Forza Edition that can only be obtained through some special event which means they are very rare) for participating every 1-2 weeks. If you don't need them, you can auction them off. They sell for about 10 million credits (depending on the car). Just do one race per week in any league and come back a week later to pick up your car.
Grab Your Weekly Forza Hub Rewards
Be sure to grab your Forza Hub rewards every week. Those credits do help.?Your rewards don't aggregate until you collect them. So if you missed some, you missed them. Now, if you've collected your rewards but haven't logged into that game for a while, then they hold until you log in again.
Purchase from Joymmo
Last but not least, if you are too tired to earn your Forza Motorsport 7 Credits on your own, Joymmo.com is recommended to you. It is an amazing platform which provides Cheap Forza Motorsport 7 Credits. Different packs of Forza Motorsport 7 Credits with fast delivery will make it easy for you to choose according to your need. Moreover, compared with other online stores, we offer the cheapest price online. Joymmo is your first choice if you have made up your mind to buy Forza Motorsport 7 Credits directly.
Now we are wrapped with this guide. Hopefully, with the help of this Forza Motorsport 7 Credits Farming Guide, you can easily earn 25 cars or around 2 million CR in just one hour.
---
---