GTA Online: Celebrate with Independence Day Specials, The Return of the Patriot Beer Hat and More
2019-07-07 03:13:36

Grand Theft Auto Online joins the nation in celebrating Independence Day with a variety of patriotic in-game goodies and a huge holiday sale. Rockstar Games will be slashing 40% off the price of selected cars, yachts, and properties. Independence Day-themed gear will also be available at 40% off from now until July 10th.

Independence Day is a special time in Southern San Andreas. Get primed to launch fireworks through the streets of the city, take the Star-Spangled Liberator monster trucking through the country and strap on a patriotic Beer Hat to celebrate freedom. You can also sink your teeth into mouthwatering bonuses on a range of businesses, discounts on your favorite patriotic items and much more.

Red, white and blue favorites make their return to stores this week. Whether you're dressing head-to-toe in stars and stripes and ripping the lid off Tony's Fun House or outfitting your collection of future-tech Mk II armory with patriotic liveries, you can jump into GTA Online to pick up these specialty items at a 40% discount:
Vapid Liberator
Western Sovereign
The Musket
Firework Launcher and Firework Ammo
Mk II Weapon Independence Day Liveries
Mobile Operations Center Independence Day Liveries
Star Spangled Banner Horns
Patriotic Tire Smoke
Independence Day Clothing, Masks and Outfits
Independence Day Haircuts
Nothing says freedom like being your own criminal boss. This week makes the hustle extra sweet with a range of big perks and payouts for entrepreneurs across the state - and if you're looking to expand your enterprise you can also take advantage of sales on several business properties.
Players can also earn three times as much GTA dollars from smugglers' sales missions and two times as much from gunfights and special cargo sales missions. Client Jobs and missile base missions will also reward players with double bonus points during the campaign. Nightclub revenues and shootouts will also run at twice the rate throughout the week.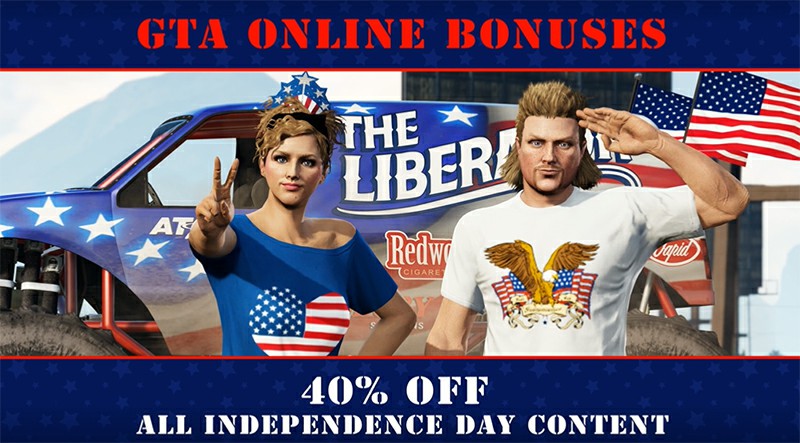 In addition to the Independence Day supplies, you can take a whopping 75% off all ammunition, including Mk II rounds. There are also discounts on all sorts of vehicles - including rocket boosted Special Vehicles and their philosophical opposite, the Atomic Blimp – as well as all Facilities, Hangars, Nightclubs and their Renovations and more. Take 40% off the following through July 10th:
Armored Boxville
Nagasaki Blazer Aqua
JoBuilt Phantom Wedge
Ramp Buggy
Coil Rocket Voltic
Imponte Ruiner 2000
Karin Technical Aqua
MTL Wastelander
Mammoth Tula
Atomic Blimp
Vapid Festival Bus
Declasse Scramjet
Benefactor Schlagen GT
Mammoth Patriot
Mobile Operations Center Cabs, Renovations and Add-ons
Mammoth Avenger, Renovations & Add-ons
Benefactor Terrorbyte
Yachts
Facilities
Hangars
Executive Offices
Special Cargo Warehouses
Bunkers
Biker Clubhouses
Biker Businesses
Nightclubs & Renovations
Nightclub Garages
Head over to the Grand Theft Auto Online official site for more details.
---
---