Ghost Recon Wildlands Year 2 Guide:How To Complete All 25 Waves In Special Operation 4 Guerrilla Mode
2019-04-08 09:27:01

Special Operation 4, the final update for Ghost Recon Wildlands' Year 2 season was available from February 27 and introduces a brand-new PvE mode : Guerrilla. In Guerrilla Mode, you and up to 4 friends will face 25 waves of Cartel and Unidad members, and completing all 25 waves for the first time will also grant you an exclusive gear set. In this guide, we will share with you some pro tips on Guerrilla mode to help you unlock the exclusive rewards.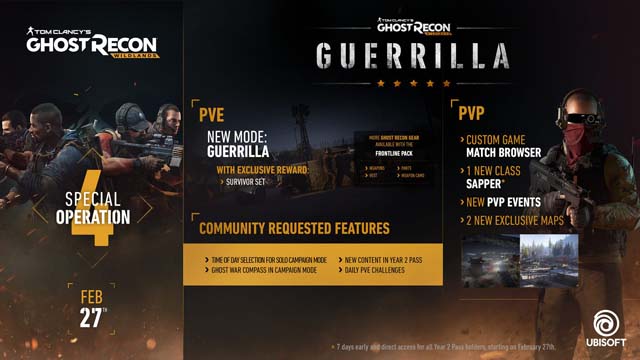 Free PvE Mode: Guerrilla Overview
Guerrilla Mode expands on the game's PvE that challenges your endurance, skills and tactics. The mode is available to play solo or in co-op with up to four Ghosts.
In this mode, players will need to defend key locations against increasingly deadly waves of Cartel and Unidad members.
After each completed wave, they will have the opportunity to purchase and upgrade weapons, skills and attachments with resources gathered from dead enemies. Each choice will be impactful and strategy will be essential to overcome the challenge. Completing all 25 waves for the first time will also grant you an exclusive gear set.
Pro Tips On Guerrilla Mode
The difficulty mode you have selected in the main campaign will affect the difficulty of Guerrilla Mode. The difficulty does not increase the number of enemies in the waves, but rather the enemy lethality. As with the main campaign co-op, you will continue to play at the difficulty level you have selected regardless of what your co-op teammates have selected for themselves. At the beginning of the game, it is better to set your difficulty to Arcade to start with, you can adjust as needed as you progress through the game. You can also unlock more powerful weapons with Cheap Ghost Recon Credits at Joymmo.com to do more damage to those tough enemies.
Although you can play Guerrilla mode solo, it would be much easier to team up with your friends. Many players could not get through the first round by solo playing. Your enemies are very tough and they do some serious damage. You can't get grenade launcher to eliminate those threats fast alone while they?come in with cars within limited time.
Make sure you always order your AI to shoot, even if you don't sync any shots: they'll fire on their own (sometimes they even snipe help pilots without marking them). Contrary to what people say, AI squaddies are OP if you know how to use them.

Don't sit on the X if you can help it, taking an over watch position will bring most enemies to you and not the X, which makes it easier to defend (watch towers that over look the area are nice spots to use)
Be aware that not all weapons can use all attachments, don't waste "money" on getting an attachment that will not work with the weapon you have.
Once you've completed all the 25 waves, you will get two customization items for completing all of the waves in Guerrilla Mode for the first time. If you continue playing, you will receive the XP, Tier Points, and Prestige Credit rewards.
You can check the video above to see how other players manage to do it.
---
---