Fallout 76 Next Update Will Make Life in The Wasteland Easier for New Beginners
2019-07-09 00:58:10

Recently, in an Inside the Vault blog post, Bethesda previewed the contents of upcoming Patch 11. One of the biggest takeaways of the highlights given for Patch 11, which is due to be added in mid-July, is the planned adjustments for a more gradual introduction of mechanics and challenges to players who are just starting out with the game.

"Lots of new Dwellers have been leaving Vault 76 for the first time over the past few weeks and, in Patch 11, we're looking to make a few adjustments to help new and low-level characters have more gradual introductions to some of the game's mechanics and challenges," the post states.

Some examples given of how this will work in practise is that characters under level 25 will pay fewer caps when fast traveling, those under level 15 will have higher disease resistance, and we're replacing a number of early-game Challenge rewards with items and other supplies that will give these Dwellers a better chance at survival.

The developer said it's looking to nerf the difficulty of some creatures in a few sub-regions within the Ash Heap, the Savage Divide and Toxic Valley, the idea being players have fewer encounters with higher-level enemies when they first leave the relative safety of the forest. The upshot of all this is new players should have an easier time of it out in the wasteland, and they will share more details in the full patch notes.

Elsewhere, patch 11 will make some improvements to the way power armor works. You'll be able to activate stealth boys while suited up, and there will be a toggle in the menu to disable the power armor HUD skin if you want to stick to the regular one.Oh, and punch bowls are returning so you can share booze with friends.

The patch also includes adjustments to food and spoilage. Raw food will expire 50% slower and food effects "will no longer lose condition after you fast travel".

And here's another welcome change: patch 11 improves item descriptions. Legendary items will be easier to understand with new descriptions that include all attributes rather than just the first whenever you view them in trade, vending or container menus. In addition, Crafting mods and recipes will see a full description of the item that will be crafted.

Here's how it looks: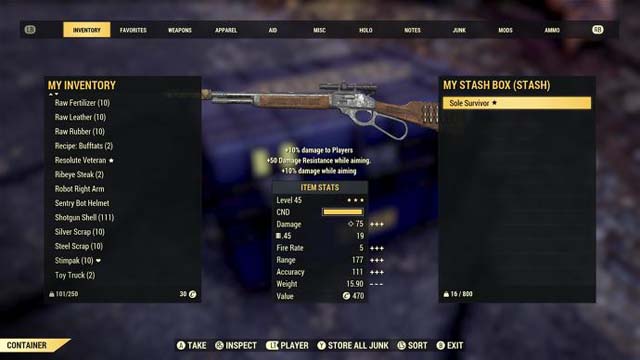 And finally, the patch will also address some bugs such as CAMP building errors in Pioneer Scout Challenges, and looping gunshot sound effects. post-patch bulk junk items in your inventory will be safe from the Scrap All Junk option - a change requested by fans ever since Fallout 76 came out. However, bulk junk will continue to be automatically scrapped as needed while you are crafting or repairing. The full patch notes are expected to be out some time in mid-July.
We'll have more information on Fallout 76 Update 11, so stay tuned with Joymmo.com, a professional online in-game currency store for Cheap Fallout 76 Bottle Caps.
---
---