RuneScape Summer Special 2019 - Grab 3-for-2 Membership
2019-07-09 11:06:15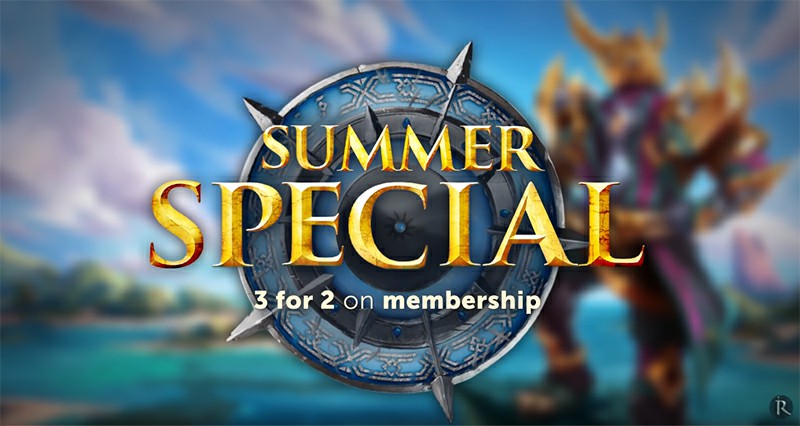 Summer Special is back!! If you want to experience everything RuneScape has to offer then membership is essential - and there's currently no better deal than the Summer Special. As well as getting 3 months' membership for the price of 2, you also receive the amazing Dragonkin Imperial Set!
You have until August 4th to grab 3 months of RuneScape membership for the price of 2, guaranteeing your ticket to The Land Out of Time in the process! This stacks with any existing membership you already have. The bonus months will stack with your pre-existing membership. As well as full access to an exciting summer of content, On top of that, everyone who gets a membership with Summer Special will unlock the exclusive Dragonkin Imperial Armour.
You want more free stuff? Sure thing, we've got two words for you: "Summer Sweepstakes". Yes, we can sense the excitement in all those of you who know what we're talking about. But for the two in the back that are never following anything:
WIN a Chillblast Desktop PC + GT Omega Racing chair + 1 Month RuneScape Membership
Only RuneScape members are able to play every quest and use every skill. Grabbing membership today is the only way to experience the dramatic and dangerous new story quest Desperate Times, and to explore the mysterious new island in The Land Out of Time. Members have an exciting year of surprises and excitement ahead! Of course, the RuneScape Gold you need most can be purchased at a very low price on our website. Our Gold is absolutely safe and you can enjoy the fun of the game. What are you waiting for?
---
---