Final Fantasy XIV Live Letter 54 Summary; Patch 5.1 Revealed With Nier Automata Alliance Raid
2019-09-18 05:51:18

The 54th Letter from the Producer Live broadcast from this year's Tokyo Game Show revealed the first major post-Shadowbringers patch: "Vows of Virtue, Deeds of Cruelty" due out in late October.

Included in this update is a new alliance raid series created by NieR Automata director Yoko Taro. He and producer Yosuke Saito joined Final Fantasy XIV director Naoki Yoshida and global community planner Toshio Murouchi.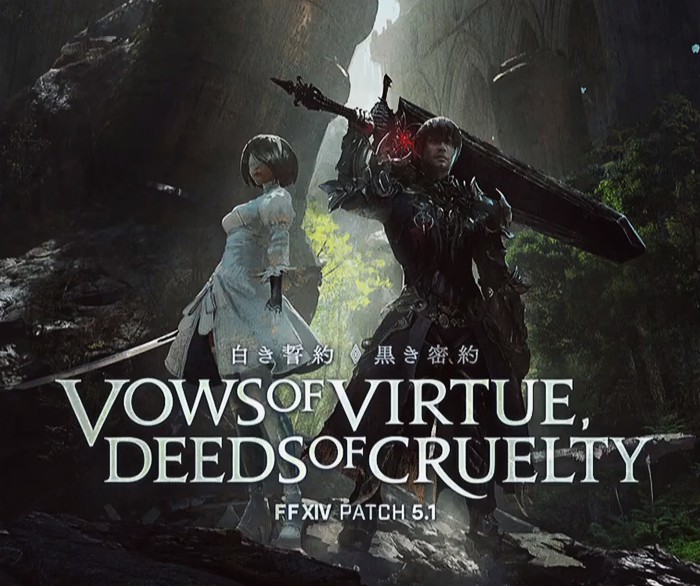 You can check out our summary of the major information below!
What's new in Patch 5.1?
Patch 5.1 is titled Vows of Virtue, Deeds of Cruelty and will release in Late October 2019.
Patch 5.1 will include new main scenario quests that continue after the conclusion of the Shadowbringers expansion.
New tribe quests featuring the Pixies in Il Mheg.
A new alliance raid from the creators of NieR Automata: "The Copied City."
A new Level 80 dungeon The Grand Cosmos which is compatible with the Trust system.
A new Ultimate-difficulty challenge. For now it's identity is being kept a secret.
Various job adjustments will take place. Yoshida briefly touches on adjsutments to Ninja's ninjutsu, de-complicating Summoner, and buffs for ranged DPS.
Blue Mage's level cap will increase to 60 and will include new job quests and Masked Carnivale stages. The Blue Mage log will be updated where you will party with your fellow blue mages to complete specified duties. You'll receive various requards including allied seals, tomestones, and bonus rewards that change weekly.
PvP will see significant adjustments to actions and a new Frontline ruleset called Onsal Hakair in the Danshig Naadam map.
New Game Plus will allow you to replay previously completed quests.
Crafters and gatherers will be revamped where they will increase the ease of entry for new players by adjusting the more complex systems and actions and UI changes for accessibility. There will also be new challenges for avid crafters. Actions will be adjusted in tandem with the revamp which will come in 5.1 and 5.2. Some actions will be removed. There will also be an option to view a recipe tree. Certain items will always be gathered as collectables. Adjustments to Quick Synthesis success rates and desynthesis,
Gatherers' actions used to locate unspoiled nodes will be automated and items at unspoiled nodes will not appear as unknown or be "out of reach." Stealth action will be replaced with 'Sneak' and it can be used while mounted and not affect movement speed. 'Quick Gathering' will be added. Adjustments will come to gathering rates and item yields as well as elemental shard yields.
Ishgard Restoration is content designed for crafters and gatherers. Players must work together to build the firmament. Contribute through a number of tasks including item deliveries. Progress of restoration will differ between Worlds.
Fellowships will allow you to form casual communities similar to free companies and linkshells.
A Gold Saucer GATE will be added featuring Yojimbo.
Doman Mahjong will get a high-resolution layout.
Performance will be updated with 'Ensemble' which will enable you to use performance actions more easily when in a party. A new horn instrument will be added along with a performance assistance feature.
The game launcher will have a visual overhaul.
New Custom Deliveries client: Kai-Shirr.
Pet Display in the party list.
Weapon rewards added for completing level 51-59, 61-69, 71-79 dungeons.
Bicolor Gemstones cap will be increased to 1000.
New Group Pose features will be added including brightness setting and character display toggle for non-party members.
Meals can be eaten while sitting.
The GARO collaboration ends with the release of Patch 5.1.
---
---