Fortnite Map Guide: All The Chest Locations And The Best Landing Spots
2019-03-13 09:27:23

Fortnite maps features huge makeovers hitting every corner with each passing season. And now, Fortnite Season 8 has begun, injecting some long-overdue change into the north-eastern quadrant of the Fortnite island. So, Where are the best locations to find chests quickly on the Fortnite map? In this map guide, we'll tell you not only all the best locations to land but also reveal all the chest location on the Fortnite map. Now let's dive in.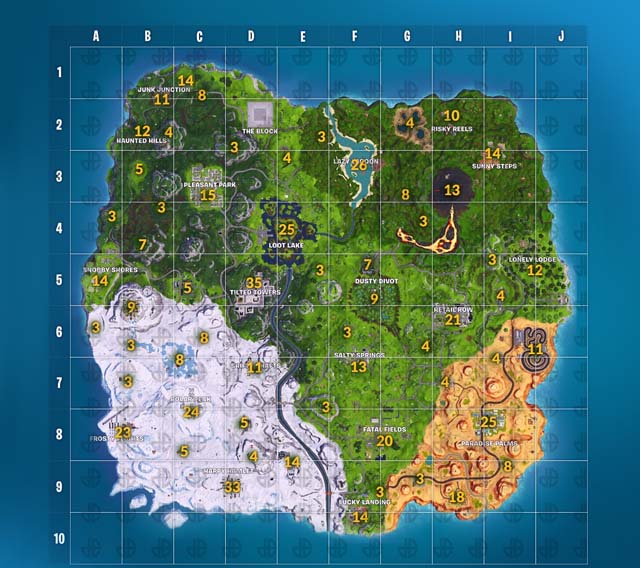 All The Cheat Locations On Fortnite Map
Chests contain most of the items in Fortnite "unvaulted" item loot tables. So it is very important to be familiar with the chest locations on Fortnite map. However, since Fortnite season 8 map have undergone a overhaul of huge changes including the addition of a brand new volcano, the removal of Wailing Woods and the arrival of Lazy Lagoon, all of these changes make even experienced Fortnite player don't know where to find the best loot. To help you out, here's an image of all the chest locations on Fortnite map. As you can see in the image above, we can see that Tilted Towers is still the loot capital of Fortnite's battle royale game mode, as 35 chests spawn there. To ensure that everyone can get the most relevant data from the map, we've listed the named location chest counts below.Unnamed locations are not listed, but can be found on the map above.
Dusty Divot – 9
Fatal Fields – 20
Frosty Flights – 23
Happy Hamlet – 33
Haunted Hills – 12
Junk Junction – 11
Lazy Lagoon – 26
Lonely Lodge – 12
Loot Lake – 25
Lucky Landing – 14
Paradise Palms – 25
Pleasant Park – 15
Polar Peak – 24
Retail Row – 21
Salty Springs – 13
Shifty Shafts – 11
Snobby Shores – 14
Sunny Steps – 14
Tilted Towers – 35 Chests
Best Fortnite Map Landing Spots - General Tips
When you choose the place to land, make sure that head for remote places to avoid a fight when you land. For example, you can look for houses on their own, or gas stations by the road away from built up areas like Retail Row or Pleasant Park. In addition, try to wait until the last minute to jump to avoid running into any early competition and keeping safe.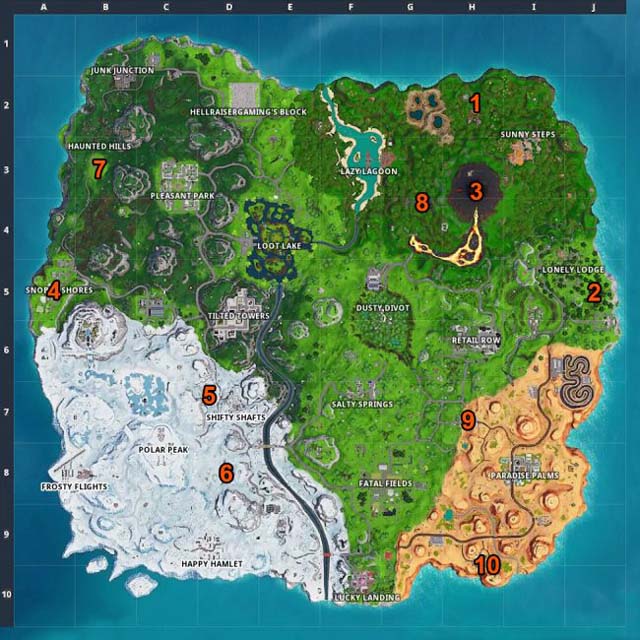 The Best Fortnite Map Landing Locations For Solo And Duo Games
So, whether you are playing solo or in duos, here are some recommended place for you to land. Instead of choosing Tilted Towers, target these smaller areas and you're guaranteed a couple of chests. That should be enough to get you started, and you can grab the rest as you go. You can also get various weapons by buying Cheap Fortnite Items from Joymmo.com to craft more powerful weapons.
Now we are wrapped up with this Fortnite Season 8 map guide, for more news and guides on Fortnite, stay tuned to joymmo.com.
---
---