Grand Theft Auto V has sold 110 million copies
2019-05-27 10:45:19

GTA 5 is a massive game, filled with brilliant secrets and Easter eggs. Launched on the Xbox 360 and PS3 in 2013 and later on the PC, Xbox One and PS4, the game continues to be a worldwide success. Some suspect this will continue until the next one. In other words, over the next six months, 10 million copies of the game were released on PS4, Xbox One, PC, and the previous console.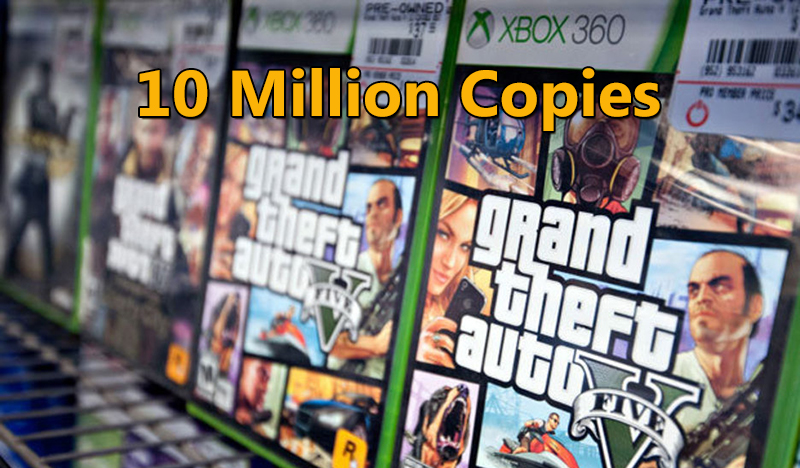 GTA 5 is a video game phenomenon the likes of which is rarely repeated. GTA 5 has sold 110 million units and counting. Some suspect this will continue until the next one. This is a staggering achievement, but how many of those millions of players know about GTA 5's many hidden secrets?
So what does 110 million copies mean, exactly?
The latest installment is the second best-selling game of all-time, behind only Minecraft, which is still comfortably ahead of it at roughly 155 million. However, at this rate, there's a chance it will catch Minecraft, especially if it's ported to the PS5 and next Xbox or even the Nintendo Switch. After that, the next top-selling game is Wii Sports at just under 83 million copies and then PUBG at 50 million copies rounding out the top 5 (the newest game on this list and an impressive total, to be sure).
110 million copies places GTAV in an exclusive bunch as just one of three games that have ever sold more than 100 million copies. It's kind of crazy to think about. It's also funny to think about what a fuss people have made over the game and its violence and debauchery. "You kill prostitutes!" is one of the popular buzz-phrases people have used to either poke fun at the game or point to its moral degeneracy, but ultimately this kind of commercial success simply illustrates that a video game like this, with escapism and freedom at its core, has incredibly wide appeal.
Somehow, we've all managed to not kill each other despite so many of us playing such a violent video game.

Of course, sales aren't the only way to track video game success, especially in an era of "game as a service" and free games. Fortnite: Royale is a hugely successful game that doesn't sell copies in the traditional sense. Popular MMOs like World of Warcraft focus more on user Numbers than sales (although this is important). Even GTA V's sales only count up to a point. After that, it's the online cash cow of GTA Online that really matters, because it generates more revenue than the initial sales.
Anyway, one has to admire Rockstar's crazy success with this game. Of course, the main reason GTA 5 continues to grow every year is because GTA Online, its Online part, still has a very large and powerful community. However, The continued success does put Take-Two and Rockstar in a pickle though: when does it reset with Grand Theft Auto 6? I'm not sure, but given the money the game makes, I'm sure it's in no rush to release a new version. Hopefully Grand Theft Auto VI isn't too far off. To play Grand Theft Auto V, you can purchase Grand Theft Auto V Money and GTA 5 Packages from our website. After buying Grand Theft Auto V Money and GTA 5 Boosting service, let you play in the game more crazy.
Grand Theft Auto V is available for PS4, Xbox One, and PC. At the moment of publishing, there's been no word of any additional ports. Check out our PlayStation 5 guide for more coverage on the next generation of gaming, or our Grand Theft Auto 5 guide for walkthroughs and tips.
---
---