How To Get More Wheelspins And Super Wheelspins In Forza Horizon 4
2019-03-15 01:13:11

Instead of grinding Forza Horizon 4 credits by winning matches and events, wheelspins offer you a chance to unlock tons of emotes, clothes, multiple credits and even a rare car by simply spinning a wheel without any endeavor. As with Super wheelspins, it refers to three spins in one, meaning that you have three chances to walk away with bountiful rewards. In addition, you can also buy Cheap Forza Horizon 4 Credits right from Joymmo.com to unlock more clothes, emotes and cars. So, how to get more Wheelspins And Super Wheelspins to maximize your rewards in Forza Horizon 4? keep on reading for the answer.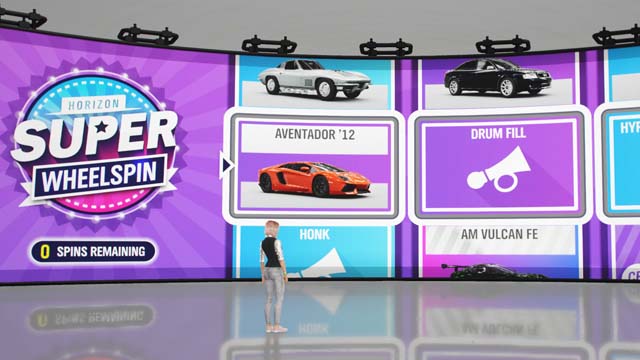 How To Get More Wheelspins In Forza Horizon 4?
Play The Game And Level Up
By participating in Daily Events and completing Live challenges whenever you can, you will level up faster. As you rank your character up, you'll get Wheelspins as a reward quite often.
Unlock Perks On As Many Different Cars As You Can
In Horizon 4each have their own skill points and perk, and one of the things you can dump your skill points into are bonus spins. The more you use a car, the more skill points you earn over time and you can invest skill points of the car you are currently driving to get more spins. Additionally, you can use these points to unlock car perks. Go into the Cars section and go to spend your skill points. Most cars come with a Wheelspin as one or two of its perks.
Buy Wheelspins From The Forzathon Shop
If you are a person who are into micro transaction, you can buy wheelspins from The Forzathon Shop. At the time of writing, one wheelspin costs you 40 Forzathon points which is rather expensive, considering it's hard to earn these points.
How To Get More Super Wheelspins In Forza Horizion 4?
Earn Super Wheelspins in My Horizon Life
There are various kinds of events in My Horizon Life. By ascending the ranks in these event types, Forza Horizon 4 will reward player with bonuses. Those bonuses sometimes include super wheelspin. Saying, Reaching level 5 in the road racing, for example - grants a super wheelspin. You can also get super wheelspins with other methods. For example, leveling your car painting or tuning and so on.
Earn Super Wheelspins By Buying houses
In Forza Horizon 4, players can purchase their own properties dotted around the map. When you buy those houses with Cheap Forza Horizon 4 Credits from Joymmo.com, a top online in-game currency store, you can also receive a few little benefits as bonuses like doubling all your FP earnings, increase the rate of super wheelspins and so on. So, you can accrue super wheelspins by getting yourself a house. At the same time, you have a place to store all your cars. In addition, like wheelspins, you can also buy super wheelspins from the Forzathon Shop.
That does it for how to get Wheelspins and super wheelspins in Forza Horizon 4. For more Forza Horizon 4 news and guides on it, stay tuned to Joymmo.com.
---
New In-Game Tournament "Scallywag Duo Cup" With A 100k Prize Pool Are Coming To Fortnite This Weekend
---