NBA 2K19 MyTeam Packs: Throwback Playoff Moments Cards for Scottie Pippen, Shawn Kemp, & More
2019-07-25 16:30:02

The 2019 NBA Playoffs may feel like a distant memory right now but NBA 2K19 is bringing playoff memories back to the basketball video game. With NBA 2K19 MyTeam packs, they unveil Throwback Playoff Moments to celebrate some of the game's biggest stars of the past. The most recent cards included in these packs showcase stars such as Shawn Kemp, Scottie Pippen, and the legendary Bill Russell.

NBA 2K19 MyTeam packs: Throwback Playoff Moments bring new Galaxy Opals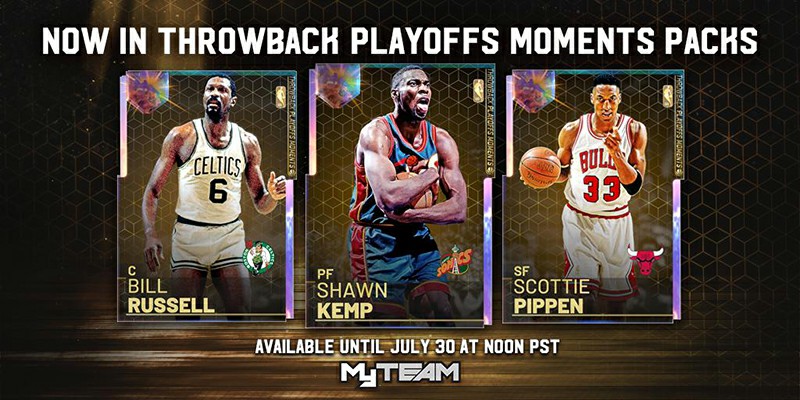 Pippen, Kemp, and Russell are part of the 2K game with major Throwback Playoff Moments cards. On Tuesday, the NBA 2K19 MyTeam packs were updated to included Galaxy Opal cards for the three stars. Pippen and Kemp were famous opponents during the NBA Finals back in 1996. That series went to the Chicago Bulls during their historic 72-win season.
While Michael Jordan is considered to be the GOAT by many, Pippen has plenty of big playoff moments during his career. That includes a number of triple-doubles for the Chicago Bulls during their six title runs. His postseason moments also included his time with the Houston Rockets. In a May 13, 1999 game against the Lakers, Pippen put up 37 points and grabbed 13 rebounds.
During Kemp's playoffs career, he had some impressive double-doubles of his own. That included a game on May 1, 1997 where the Supersonics beat the Suns, 122-115. Kemp ended the game with 24 points and 20 rebounds to help lead the way, according to Basketball-Reference stats.
Bill Russell basically needs very little introduction. He can boast of the most NBA rings of any legend out there today. Russell has 11 NBA championships on his Hall of Fame resume. In several different playoff games between 1957 and 1962, Russell tallied a whopping 40 rebounds in the game. That included an April 18, 1962 Celtics' victory over the Lakers. Russell also scored 30 points to go with the 40 boards.
All three players are now available in NBA 2K19 MyTeam Packs thanks to their playoff moments.
---
---