NHL 20: Cover Athlete, Release Date, Special Editions, Pre-Order Bonuses and New Features
2019-06-21 09:35:49

Fans , NHL20 is coming soon! During During the NHL Awards Wednesday night in Las Vegas, EA Sports officially announced NHL 20, and released a lot of details about NHL 20 to give fans first peek at what to expect from upcoming NHL 20. below, Joymmo.com will walk you through all the latest details on NHL 20 and provides you Cheap NHL 20 Coins.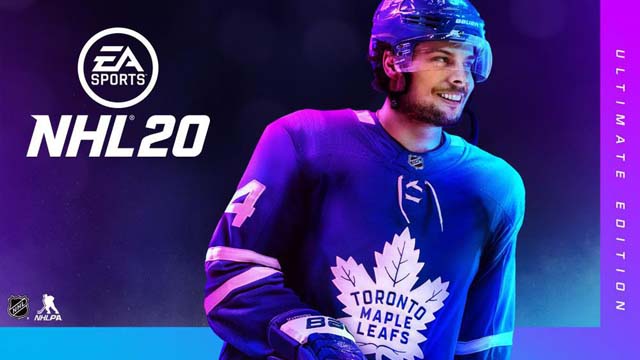 NHL 20 Release Date
NHL 20 will release on September 13 worldwide, but fans who pre-order the Deluxe or Ultimate Editions will receive early access beginning September 10. Even earlier, subscribers to EA Access will be able to play the full game on September 5.
NHL 20 Cover Athlete
During the NHL Awards on Wednesday, EA announced that Toronto Maple Leafs center Auston Matthews will grace the cover of NHL 20, and he is the first member of the Maple Leafs to be honored as the NHL cover athlete.
NHL 20 Special Editions and Pre-Order Details
There are three different editions of the game, each with varying prices and with different bonuses included. Here's a look at what's included with each game version.
NHL 20 Standard Edition details:
Up to 2 HUT Diamond Choice Packs
1 World of CHEL hockey bag
NHL 20 Deluxe Edition details:
Up to 3 Days Early Access
Up to 5 HUT Diamond Choice Packs (Pack available through pre-order offers only)
Hometown Choice Pack
2 World of CHEL hockey bags
NHL 20 Ultimate Edition details:
Cover Athlete Choice Pack (85 OVR)
Early pre-order bonus available until July 18th
Up to 3 Days Early Access
Up to 10 HUT Diamond Choice Packs (Pack available through pre-order offers only)
Hometown Choice Pack (Choice of 1 hero item, increases +1 OVR each month until April 2020)
5 World of CHEL hockey bags
Access to exclusive HUT Competitive Season (Starts September 13th)
NHL 20 New Features:
Shooting
Real Player Motion (RPM) Tech is changing the game, and introduces Signature Shots for the league's top stars.
Of note, Subban's slapshot, Matthews'half toe-drag wrist shot and Alex Ovechkin's one-timer are among specific shot styles now featured, and that's in addition to hundreds of new shot animations.
Passing
RPM overhauls to passing and puck pick-ups help a faster and smoother play experience.
Goaltending
New goalie artificial intelligence now consists of a "full offensive threat analysis," designed to enable goalies to read and react to the threat level of every zone entry.

ONES and THREES Eliminator
Players can now take part in a new version of ONES and THREES called "Eliminator."It's a winner-take-all competition that introduces the popular battle royale concept. In Eliminator, 81 players compete against each other in a survival tournament bracket. The same concept applies to the THREES version of Eliminator.
Broadcast Package
A new broadcast package brings fresh play-by-play and color commentary calls, and that's in addition to new motion graphics, scoreboards and overlays.
Furthermore, a "Play Of The Game" feature "brings memorable plays to life through highlights designed to put top moments on a pedestal for both your teammates and opponents," per EA Sports.
Hockey Ultimate Team and NHL ONES
Players can now play ONES mode "via local multiplayer with class-based NHL stars," per EA Sports, which means a chance to challenge others to one-on-one-on-one battles.
As for Ultimate Team, The Hockey Ultimate Team mode, meanwhile, adds a feature called Squad Battles. Similar to Squad battles from FIFA Ultimate Team, this has players competing with their fantasy team against squads made by famous people including include "NHL players, musical artists, hockey influencers and other superstar athletes."Furthermore, fans can play with a new group of hockey Icons, which now numbers over 400.
CHEL Challenges
Finally, the online hub, World of Chel, is updated in NHL 20 with new weekly in-game events, called Chel Challenges, defined by EA as "weekly in-game events across all of fan-favorite modes that unlock unique customization rewards, character XP and more."
Some of the newly added items include ski goggles and various caps. In total, NHL 20 will offer more than 2,000 customization items for players to create a unique character.
---
---