MLB The Show 19: Top 4 Diamond Dynasty Clutch Hitters
2019-04-09 09:35:32

MLB The Show 19 gameplay has officially been out for one week and fans are still buzzing!In the latest MLB The Show 19 players poll, EA Sports offers you some go-to guys for you to choose as a manager. We are going to break down the current MLB The Show 19 Top 4 Diamond Dynasty Clutch Hitters in the game right now.

On the afternoon of April 7, EA Sports released some recommended some clutch hitter names for Diamond Dynasty for you to choose via its twitter account. Here's a full list of all the nice examples from the MLB The Show 19 players poll.

JD Martinez
Bryce Harper
Jose Altuve
Christian Yelich
Jose Remirez
Joey Votto
Bryce Harper
Freddie Freeman
Nolan Arenado

Who's Your Choice?
When it comes to clutch hitters, some are just head and shoulders above the rest. JD Martinez? Bryce Harper? Jose Altuve? Or maybe someone different? The following are four players recommended from Joymmo.com. Also, if you wanna buy Cheap MLB The Show 19 Stubs, you can also come to our website.

Jose Altuve
The 2017 AL MVP (and World Series champion) has won three batting titles, and he's led the league in hits four times and stolen bases twice. Altuve's also a six-time All-Star, five-time Silver Slugger and an AL Gold Glove Award winner. His four straight 200-hit seasons from 2014-17 made him the first player since Ichiro to accomplish that feat.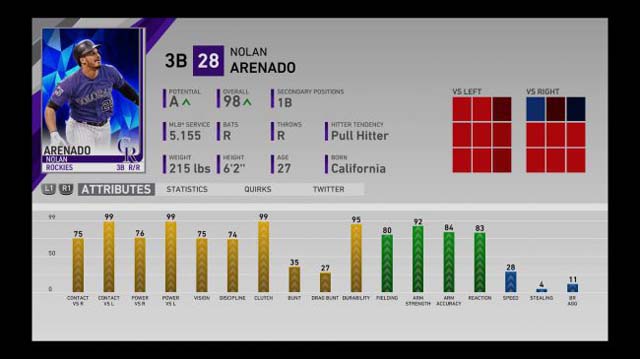 Nolan Arenado
Arenado is a superstar offensively and defensively at third base. He's become a perennial National League MVP candidate with three straight top-five finishes, and he's also on a run of four straight All-Star nods, four straight Silver Sluggers and six straight NL Gold Gloves.
Christian Yelich
Yelich put it all together in a sensational first year in Milwaukee, winning the NL MVP Award and batting title, leading the Brewers to the NL Championship Series and nearly winning a Triple Crown. Yelich was a first-time All-Star and second-time Silver Slugger, and he's won an NL Gold Glove Award once before.
Jose Remirez
J-Ram forms a dynamic duo with Lindor in the Cleveland infield. Ramirez was an AL MVP Award finalist for a second straight year in 2018 after crushing a career-high 39 homers, and he's a back-to-back All-Star and Silver Slugger, too.
Of course, there is definitely the best players. You can choose players based on your own preference and play style. No matter who it is, you are the manager and you make the call!
---
---