The Elder Scrolls: Blades, The Mobile Game - Coming to Nintendo Switch Fall 2019 For Free
2019-06-11 09:35:41

During E3presser, Bethasda announced that The Elder Scrolls Blades is coming to the Nintendo Switch for free this fall. In addition, Bethasda also announced a chunky content patch for Blades on mobile and it's out right now.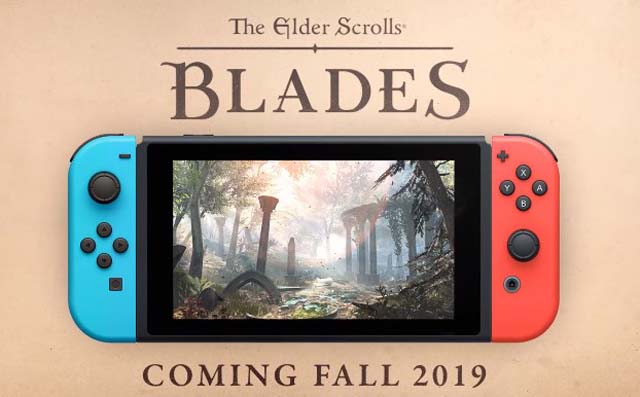 Since its launch in 2002, the Elder Scrolls Online RPG series has always been exclusively on PC. The Elder Scrolls: Blades is a Elder Scrolls'first proper first-person action RPG on mobile devices, a game that keeps the essence of what makes the franchise so great while further simplifying the package. The Elder Scrolls: Blades will bring a new fantasy adventure to your?smartphone touchscreen that offers both a story mode as well as a roguelike dungeon crawler and a multiplayer mode.?The most anticipated new feature by far is the arena mode, which will let players take on real opponents in PVP.
The Android and iOS version was early released this year. With the upcoming version on Switch, players will be able to play the game in either docked, tablet or handheld mode.
When it does arrive on Switch, the game will be free-to-play just like it is on mobile devices. On top of free, the Nintendo Switch version appears to support offline play, allowing you to progress in the game without being connected to Bethesda's servers, unlike the other versions. Assumedly, it simply updates your progress and syncs with the server upon reconnection. In addition, the Switch version of Elder Scrolls Blades will feature cross-play and cross-save. Meaning if you start an adventure on your mobile device, you can continue where you left off, at the level you left off, on the Nintendo Switch. All of this will land on Nintendo's console-handheld hybrid this fall. You can check out the announcement trailer below.
In addition, Bethasda launch a new a new update for the existing mobile version,which mainly includes new jobs, solo arena battles, a custom jewelry system, and a new dragon questline. For full patch notes,please check the official website. For Cheap Elder Scrolls Online Gold, visit Joymmo.com, a professional online in-game currency store.
• Giveaways for E3 2019: We're giving away FREE items during the week of E3!
iOS: If you're playing on an Apple device, login to receive the Crimson Kiss ruby ring, the Apple Pie banner decoration, and 200 Gems.
Android: If you're playing on an Android device, login to receive the Cascadia sapphire ring, the Sweet Roll banner, and 200 Gems.
• All-new NPC voice-over: VO has been added to NPCs you encounter in town, during major quests, and in the solo arena battle jobs.
• New Dragon Questline: A new questline has been added featuring a fearsome Ancient Dragon and a mysterious dragonslayer.
• New Jewelry: We've added new skill-boosting rings and necklaces. Look for them in chests, craft them at the Smithy, or buy them at the Enchanter's Tower.
• New Jobs and Solo Arena Battles: Adjustments and additions have been made to Jobs including the addition of Solo Arena Battles.
• Support for Players that are Level 50+: Adjustments have been made to allow for players to level up beyond 50.
---
Microsoft Has Announced That Halo Infinite Will Be Coming to Next-Generation Xbox, Called Project Scarlett
---