A New Dark Vertex' Fortnite Xbox One S Bundle Is Coming, And Here's Everything You Should Know
2019-05-20 09:08:52

If you've been waiting to purchase a new Xbox One S and are a big Fortnite fan, then there's a new bundle that could be on the way for you! A leak has shown that Microsoft is once again partnering with Epic Games and a brand new Fortnite Battle Royale 'Dark Vertex' bundle is coming soon for Xbox One S. The Vertex bundle returns with a purple theme to match the purple console. In addition, it will be bundled with the Dark Vertex set which appears to include an Outfit, Glider, Pickaxe, and V-Bucks as-per usual. Here's everything you need to know about the upcoming Dark Vertex' Fortnite Xbox One S bundle.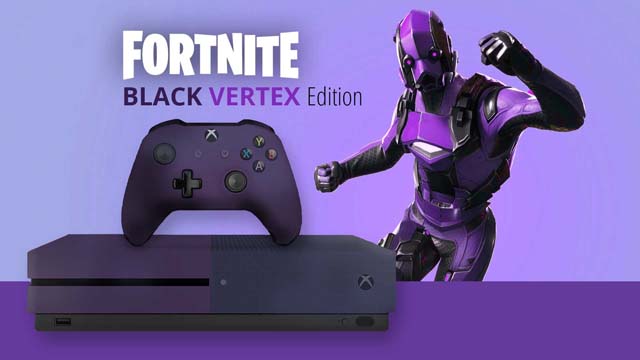 What is Dark Vertex' Fortnite Xbox One S bundle?
Here's what you're gonna get in the Dark Vertex Xbox One bundle:
A dark purple 1 TB Xbox One S
Dark purple Xbox One controller
Dark Vertex set for Fortnite
The Dark Vertex set looks like it will include the Dark Vertex outfit and accompanying Glider, Pickaxe, and V-Bucks
How to unlock the Dark Vertex' Fortnite Xbox One S bundle?
You can buy the Dark Vertex' Fortnite Xbox One S bundle from Microsoft store. It is currently listed at a price of $299.
How to unlock Vertex skin?
To get the Dark Vertex outfit, Fortnite players have to buy the Xbox One S bundle at Microsoft store, which cost you around 300 dollars. Hopefully, however, the Dark Vertex set will be made available as a standalone purchase for Fortnite at a later date (for the Xbox One version, at least.) If you need V-Bucks to unlock more cosmetics in Fortnite Item Shop, then Joymmo.com provides you Cheap Forntite Top Up V-Bucks. Compared to other online sellers, our price is much competitive. Moreover, we promise a fast delivery.
What are your thoughts on the Dark Vertex bundle, do you plan to purchase the $299 Xbox One console for this set?
In addition, current Fornite Season 9 Week 2 challenges are now live on all Fortnite platform. If you have trouble with any challenge, you can check our previous Fortnite Season 9 Week 2 Challenges Guide, in which you can find solutions to all challenges and where to find the secret hidden banner.
For more news and guides on Fortnite, stay tuned to Joymmo.com.
---
---