Forza Horizon 4: Teamwork Makes the Dream Work Achievement Guide
2019-06-17 01:32:13

This is a multiplayer-only achievement - you cannot unlock it while playing alone or in offline mode! In the case of a game with unknown players selected via the matchmaking system, you must be paired with people that are also willing to work on completing the successively acquired challenges.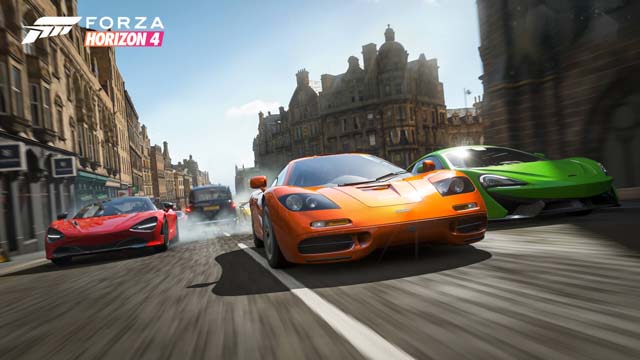 You should get an invitation for the #FORZATHON Live during the free ride in the Horizon Life game mode. Once you are in a FORZATHON Live Event just make sure you finish all three rounds, so that the achievement will unlock. These events are group actives like jumping danger signs, speed traps and speed zones.
To complete all three rounds after successfully entering the event, you need to complete three different objectives, one after the other, in cooperation with the rest of the players that are participating within a time limit. One could be a jump, the other a speed zone, or a speed trap, a drift or a skills zone, all in a random order and a random selection. Once the team completes the first objective, it moves on to the 2nd round and the event goes on. The objectives work cumulatively, as you need to pass through the speed zones or do the jump for example a few times so the team reaches the required goal, for example 2 kilometers of total distance jumped from a jump, 1500km/h for a speed trap, 100 Air skills etc. The more participants the better are your chances, but unless a lot of players go afk, you won't have an issue completing the whole event on your first try even.
You should tackle each objective like the respective challenges in the singleplayer. The slight difference is that you shouldn't be looking for perfect runs, but rather a balance between putting up numbers often and scoring big. For example, there's no point in backing off for 5 kilometers so that you can hit 380km/h on a trap. Turn around sooner and hit 310km/h. That way, you'll contribute more efficiently towards the goal and increase your chances of completing all three objectives before time's up.
Keep in mind that you can have any car delivered to you at any time, so if the car you're using seems unsuitable for a drift zone or an offroad section, don't hesitate to pause the game, go to the Cars tab, then My Cars and select another car you own. If you don't have money to unlock a new car. No worries and Cheap Forza Horizon Credits are on sale at Joymmo.com. Chose "Yes" when asked whether you want that car to be delivered to you and after a loading screen you'll spawn near your last location in the selected car. You don't get kicked out of the event, so you can drive or fast-travel to the next objective to continue.
That's the end of this guide. May it helps!
---
---