SuperData: League of Legends, Crash Team Racing, and Honor of Kings rankings and R6S hit its peak in June
2019-08-13 02:36:55

Game market research organization SuperData Research reported the latest data report, announced in June 2019 world games marketing data, in June of this year the total revenue increased by 2% to $9.2 billion on global game revenue, while mobile game platform is compared to the same period last year growth of 7%, to make up for a PC with the low performance of the host market in June (PC market rose to 9%, the host is 2%).

Market researcher SuperData Research reported that League of Legends held the top rank in June PC game revenues, with Fortnite taking the top spot for consoles and Honor of Kings ruling mobile games.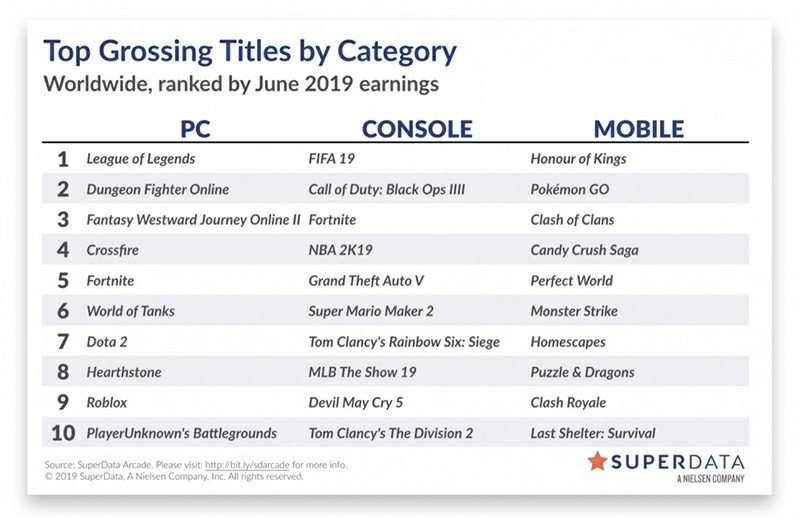 SuperData estimated that Crash Team Racing sold 552,000 digital copies worldwide in June despite launching late into the month, marking the second-best launch month of any racing game on console. That was behind Ubisoft's The Crew 2 in 2018.
Tom Clancy's Rainbow Six Siege's player base was as strong as ever. According to SuperData, Tom Clancy's Rainbow Six Siege has been working to 4 years, but the number of active players still in June this year to reach the highest.
Total in-game revenue rose to $36.8 million across console and PC in June, an increase of 50% from May and 9% from June of last year.
Separately, Blizzard Entertainment's videogame Overwatch officially became the 64th game to earn $1 billion in sales in June, the sixth Activision Blizzard title to achieve that milestone.
At the same time, major overseas game manufacturers have recently started to experiment with the "free and low cost" model to expand the player base by making 3A titles released at low price or even free. SuperData observed that EA's announcement of SIMS 4 for free and take-two's promotion of NBA 2K19 have both seen significant growth in post-marketing response.
---
---