Apex Legends Battle Pass Season 1: Wilder Frontier Kicks Off Now And Here's Everything You Need To Know Before Jumping In
2019-03-20 09:35:04

After long-time anxious waiting, Apex legends battle pass season 1: Wilder Frontier is finally available on all platforms for players all over the world. The battle pass system lets players to play various special events and unlock in-game rewards for three month. So, if you are looking to take part in the season, here's everything you need to know before you jump in.
Apex Legends Battle Season 1 Release Date
The Season 1 Battle Pass will be released on March 19th, 2019 at 10am PST.
Apex Legends Battle Pass Price And Rewards
There three ways you can get involved with the Battle Pass: playing for free, buying the standard Battle Pass, or buying the Battle Pass Bundle.
Free Battle Pass Rewards - You can level up your Battle Pass Levels like usual, but only access the free Rewards, and only when you reach their Level in the Battle Pass.
Battle Pass Rewards - A Apex Legends Battle Pass costs you 950 Apex Coins,which is around $9.99 USD in the shop. In this case, why not come to Joymmo.com for Cheap Apex Legends Coins, with 1,000 coins bring only around 3 dollars. In addition, we also provide fast delivery. Once you've made an order, we promise to deliver coins within 15 minutes. Please feel assured that as a professional online in-game currency store for many years, our items are absolutely safe. So, have a try. At the same time, purchasing the battle pass will instantly unlock the Lifeline Revolutionary skin, the Wraith Survivor skin, and the Mirage Outlaw skin.
Battle Pass Bundle - You can also purchase the "Battle Pass Bundle" for 2,800 Apex Coins and get the Battle Pass, plus unlock your next 25 levels instantly.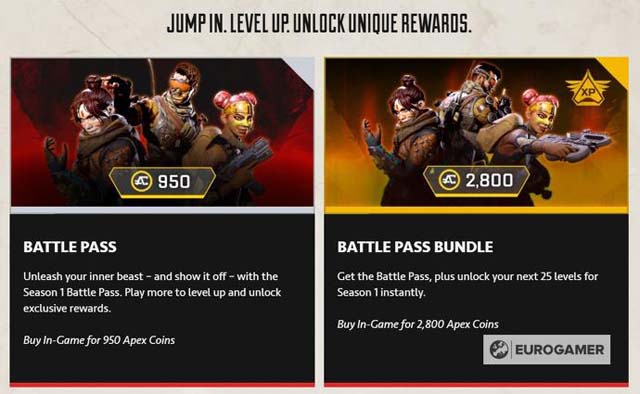 Apex Legends Battle Pass Explained
Battle Pass Overview
If you have played Fortnite, you must be familiar with the concept of Battle Pass. Likewise, in Apex Legends Battle Pass system, player farm battle pass experience points and level up higher to unlock more rewards and loot by completing challenges. For free battle pass owners, they can only unlock free rewards. For battle pass owner swho buy the Battle Pass, they can unlock 100 other premium rewards. You'll earn one reward for each level of the Battle Pass - up to level 100.
Apex Legends Battle Pass season 1 is dubbed Wilder Frontier, featuring this Battle Pass, and the new Legend, Octane.
New Character Octane
As with this legend, Octane, so far, Octane's abilities haven't been visible on the game official website. His tactical ability allows him to move faster than normal which costs a percentage of his health. To offset this, Octane's passive ability grants him gain back the health he has either lost or spent.
Octane can activate an ultimate ability called Launch Pad, which enable him to throw launch pads on the ground and allow anyone to boost into the air.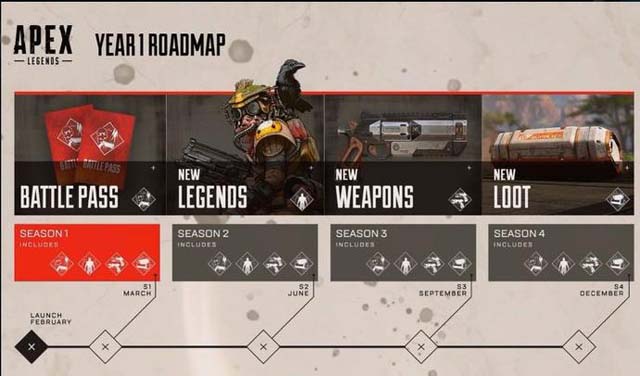 Apex Legends Roadmap For 2019 Explained
Developer Respawn has revealed what to expect from the Apex Legends Roadmap for the coming year. There are four seasons in 2019, the first arriving in March. Each season will be three months in length and includes a new battle pass, legends, weapons, and new potential loot.
---
Assassin's Creed Odyssey March Update: The Lost Tales of Greece's Episode 7 "A Friend Worth Dying For" Will Come Out On March 26
---