Fallout 76 Survival Mode Beta Begins Next Week And Here's A Preview
2019-03-23 09:13:00

Fallout 76 is getting a new game mode, called Survival Mode, geared toward more competitive players seeking a challenge and players will soon get an opportunity to experience the game's Survival Mode first-hand when the Survival Mode begins a beta next week, as confirmed confirmed by Bethesda. Survival Mode has the same quests, events, and story that you're used to in Adventure mode but with much less the existing restrictions on PvP combat. So, But what is this Survival Mode, exactly? When does it arrive? How do you play it? Do you have to give up playing Fallout 76 normally? We've got the answers to all these questions below.
Fallout 76 Survival Mode Beta Overview
The Fallout 76 Survival Mode Beta will launch in the game on the 26th of March. When it launches, Survival Mode will appear in the Fallout 76 main menu as an alternate way to play the game,while the normal Fallout 76 gameplay mode is being renamed Adventure Mode to make a difference between them.
Compared with the existing game, Survival Mode features fewer player vs. player (PVP) restrictions, higher stakes for PVP combat, and even a permanent XP bonus. Besides, there are scoreboards for players to earn bragging rights, as well as new weekly challenges for legendary rewards.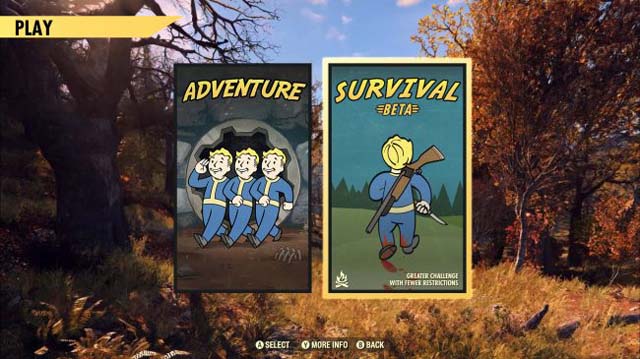 To unlock Survival Mode, Just choose "Play" on the main menu. Then it pops up a screen, seen above. Then just click "Survival Mode", if you like to challenge yourself with harder challenge and dangerous gameplay.
What Is Fallout 76 Survival Mode And How Does Fallout 76 Survival Mode Play?
Survival Mode covers everything in the Adventure Mode, but with some major changes up PvP combat, death and respawn mechanics, featuring less restrictions and higher stake. Here's a list of specific changes to Survival Mode:
Weapons are more deadly, though one-shot mechanics have been limited.
One Stimpack of each type can be active at any time.
Respawn is only at one's CAMP or at Vault 76 or a train station.
Fast Travel is limited to CAMP, Vault 76 or a train station or a workshop under a player's control.
Scoreboards will be active for: Player Kills, Longest Life, XP Gained, Events Completed, Enemies Killed, Bounty Collected, Time Wanted and Workshops Claimed.
Each week will see players earn Legendary items for completing challenges - the first 6 weeks' items are profiled in the blog.
When Does Fallout 76 Survival Mode Arrive?
So far, the official release date hasn't been confirmed by Bethesda yet. However, the Survival Mode beta is set to launch this coming Tuesday, March 26 th. So it won't be long before the full mode to roll out in the game.
Can I Change Between Survival Mode And Adventure Mode?
Players are freely to switch between Survival Mode and Adventure Mode when they play. You don't need to worry about your upgrades and bonuses gained in Survival Mode and you don't need to creates a new character in Survival Mode either. To increase you chance of survival in Survival Mode, you better prepare yourself with powerful weapons which you can buy with Cheap Fallout 76 Bottle Caps from Joymmo.com. So, if you are tired of constant struggle and dangerous gameplay when you play, you can turn to Adventure Mode with no repercussions. Just return the the main menu and choose the one you wanna play.
That's all you need to know about Fallout 76 Survival Mode. For more Fallout 76 news and guides, stay tuned to Joymmo.com.
---
MapleStory 2 Gear Score Guide: How To Get Enough Gear Score For Normal Dungeon, Hard Dungeon And Chaos Raids
---