How To Farm Treva Fast And Easily In MapleStory 2
2019-03-12 01:07:34

Treva is a currency that can be garnered by entering into PvP maps (the maps on the top-left of the map) and killing elite bosses in MapleStory 2. With Treva, Maplers are able to purchase cool costumes, mounts and equipment. In this Treva guide, we'll be presenting you how to farm Trava fast and easily in the game. So, just keep on reading.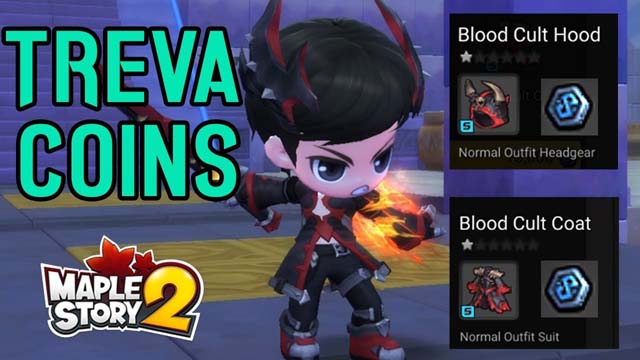 What Is The Use Of Treva?
As a in-game currency, Treva currency can be used to buy goods from a merchant found in Queenstown (NPCs Borka, Hibeck, Matz) or Obsidian Mount (NPCs T-Rade, Schulz, and Pepper). those good include costumes, gear, mounts and other various items.
In addition, during the process of farming Treva, players will also farm quite a bit of raw money (500~750k/hour) and a lot of Lingering Ghosts, and a lot of Mini-Elixirs. Moreover, farming Treva is a very efficient way of picking up raw Mesos. You can around 35K Treva to yield around 5.000.000 Mesos. For more Mesos, come to Joymmo.com where you can buy Cheap MapleStory 2 Mesos at the cheapest price online.
How To Farm Treva?
Treva is obtained through Twisted Pocket Realms, which are portals that have a chance to spawn when killing Elites in the level 50+ PvP maps. Elites are indicated on the minimap as a small red dot and every once in a while they will drop a pocket realm which you can enter. Upon entering you will see a timer and an objective pop up on screen, if you complete it you will get Treva. If you don't see any, you can start slaughtering random monsters or shift channels.
However, farming Treva is not an easy task, as the mobs and bosses inside those realms are quite beefy and the events are time-limited. Therefore, here are some effective advice to help you out and farm Treva easily in MapleStory2.
First, gear up well, so that you can kill those though monsters and won't die. For beginners, we recommend a minimum of a +11 Purple Weapon for DPS classes. By the way, it would be much netter if you choose any other classes except for Priests, as other DPS classes have better speed of farming. Besides, when you fight monsters, prioritize your HP instead of Defense Score.
So, how to manage your HP in PvP Maps and Twisted Pocket Realms? Instead of Healing stones, here are some other ways to heal your HP. First, for Maplers with SSDs (fast load times), they can simply press N+Enter and go to their houses to heal their HP to full. You can also heal you to full health by hopping into your House with over the amount of HP on regular maps. Last, you can also buy an item with 100 Blue Stars which heals you for 10% for every nearby monster, up to 50%.
In Twisted Pocket Realms that basically turns into an Elixir for 1 Blue Star, which would make it easier for you to buy the item!
In addition,since the elite monsters will sometimes have shields that switch between physical resistant to magic resistant, farming Treva with another player would be much more efficient than solo action.
How To Spend Treva?
As I mentioned above, Treva has many different uses. To consume Treva, you need to visit the Queenstown and locate the shadow merchants at the top right. There are 3 different merchants and one of the vendors offers a glove that gives you 5.4% physical/magic piercing, which is a great placeholder until you get something better.
Now we are wrapped up with this Treva Farming guide. Hopefully, it would be useful for you. For more news and guides on MapleStory 2, stay tuned to joymmo.com.
---
---